Coconut Oil Malaysia – Because good health for your family starts with Organic Virgin Coconut Oil and continues from there; Organic Odourless Coconut Oil, Coconut Flour, Coconut MCT Oil and much more!
T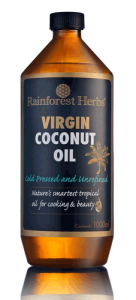 hroughout the tropics, Coconuts provide  the rich creamy flavors that are akin to the use of cows milk, cream, butter or ghee in other cultures. Today chefs, nutritionists and Medical health professionals worldwide are recommending to use Virgin Coconut Oil and a range of other coconut products in our diet for optimum health. This has resulted in an exponential growth of delicious recipes available online and we at Coconut Oil Malaysia try a new Coconut Product Recipe every day and share our results with you all!
The unique medium chain triglycerides (MCT's) found almost exclusively in virgin coconut oil contain no cholesterol, are heat stable and have been found to possess multiple health benefits, antimicrobial effects and powerful antioxidants that protect us from a range of health problems prevalent in modern life. These health benefits include; anti-obesity, enhanced immunity, prevention of heart disease, diabetes, removing intestinal problems and enhancing energy without involving insulin, making coconut products are important addition to the diet for diabetics and those with blood sugar problems. The coconut palm is also a rich source of highly nutritive nectar/sugar from the flower sap. This palm sugar has a low melting point and high burn temperature together with an extremely low glycemic index (of 35 compared to white sugars 93) making it a much healthier choice for cooking.
We invite you to explore our pages further for more up to date info on the health benefits of virgin coconut oil, coconut butter, coconut sugar, coconut flour and coconut vinegar as well as for practical tips to incorporate these coconut products into your family's diet. We can guarantee you that as you incorporate these products into your health and beauty practices you too will join the millions of coconut lovers that have experienced first hand this most miraculous of natural functional foods.
Rainforest Herbs – Bringing our highest quality organic remedies and health foods to the world since 1995.