Traditional Malay Recipes with Coconut Products

In the cooking traditions of the worlds tropical cultures you have hundreds of delicious Virgin Coconut Oil, Coconut milk and Coconut Sugar recipe's available. Many of these provide the combined benefits of coconut tree products with other tropical herbs and spices. For example, the combination of Turmeric and Ginger with Virgin Coconut Oil in Southeast Asian curries actually has a synergistic effect that promotes antioxidant health and culinary satisfaction at the same time.
There are thousands of great Coconut health recipe's available online and those from Southeast Asia are some of the oldest and most delicious! It is our experience that to get the total benefit from adding Virgin Coconut Oil to your diet then it's important to find a delicious range of recipes from all cultures of the world. To assist this process we have recently introduced Organic Coconut Oil – Odourless which is perfect as a replacement to processed supermarket vegetable oils that are high in the inflammatory Omega 6 fatty acids (not to be confused with the healthy Omega 3 fatty acids that are often lacking in modern diets).
Here's some delicious traditional Malay recipes:
Rendang Daging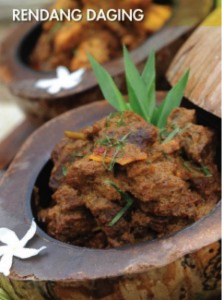 This recipe is one of the most famous signature dishes in Malay cuisine and served during festive occasions. Rendang (which literally means "food cooked in coconut oil") can be made with beef or chicken. This combines the very richest of coconut bases with irresistible fresh curry herbs and spices and often a potent amount of chili.
INGREDIENTS: Fresh herbs and spices are preferred, but dry herbs and alternatives can be found in Asian supermarkets worldwide. Contact us for more info.
1 kg beef cut into 2½cm cube
1 cup Rainforest Herbs Virgin Coconut Oil
2 ½ cm galangal & 2 stalks lemon grass  to be roughly chopped
The following fresh herbs to be ground into a paste:
20 pcs dried chilies
2 ½ cm galangal
2 ½ cm ginger
2 ½ cm fresh turmeric
3 stalks lemon grass
600 grams shallots
8 cloves garlic
Also,
150 grams 'kerisik'
300ml coconut milk
3 turmeric leaves
2 tsp salt
3 pcs kaffir lime leaf
METHOD:
Season beef with salt, marinate for 15 mins.
Heat Rainforest Herbs Virgin Coconut Oil, add galangal and lemon grass, stir fried spice paste with low heat until fragrant and the oil separates from paste.
Add beef  and mixed well with paste then add coconut milk, turmeric leave and cook with low heat for 1½ hours, stir often till the beef is tender and the gravy thicken, the oil starts to float on top then add 'kerisik' and mixed well.
Ayam Percik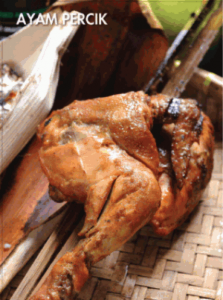 This delicious barbecue chicken is famous on roadside stalls in Kelantan for its irresistible rich coconut spice marinade.
INGREDIENTS
2 kg chicken cut into 4 pieces
Fresh Ground Marinade:
2½ cm ginger
4 pieces garlic
Other Ingredients:
1 tsp salt
200ml coconut milk
2 tbsp Rainforest Herbs Virgin Coconut Oil
1 tbsp Rainforest Herbs Coconut Flour
2 tbsp tamarind paste
1 tsp Rainforest Herbs Coconut Sugar
Ground Spice Paste:
8 pcs dried chilies
8 pcs shallots
½ cm ginger
2 cm shrimp paste
METHOD:
Marinate chicken with ginger and garlic and set aside for 1 hour
Mix coconut milk with coconut flour, ground spice paste and other ingredients, simmer over a small fire until the sauce thickens
Mix chicken with sauce for 5 mins, then barbecue the chicken over a charcoal fire or under a grill, continually basting with the sauce until the chicken is cooked.
Wajik
This is a delicious coconut milk and coconut sugar glutinous rice dessert that is a must have at Malay traditional celebrations. By the way, glutinous rice does not contain gluten!
INGREDIENTS
1 kg glutinous rice (it's actually gluten free!)
1.4 kg Rainforest Herbs Coconut Sugar
1000ml coconut milk
2 pcs pandan leaves
250 grams rice
2 tbsp Rainforest Herbs Virgin Coconut Oil
METHOD:
Soak glutinous rice overnight
Drain glutinous rice and steam for 1 hour.
Cook coconut milk, Coconut Sugar, Virgin Coconut Oil and salt until thickened and dissolved.
Add glutinous rice, cook over a low flame, stirring continuously till mixture thickens.
Spread the cooked Wajik on a tray and let it cool. It may be served as is or cut into cubes.