Our Cold Pressed Black Seed Oil (Habbatus Sauda Oil) is of the highest purity and freshness and is synergistically formulated with our Cold Pressed Organic Virgin Coconut Oil for greater convenience in consuming internally and using externally.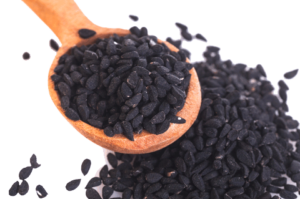 Black Seed Oil is produced from the seeds of the Nigella sativa plant and is one of the oldest herbal spices with recorded uses in many herbal systems and culinary traditions from Asia, the Middle East, Persia and southern Europe dating back several thousand years. The oil and seeds have also been discovered in the tombs of Egyptian pharoahs and the uses of this miracle herb are praised in the holy hadith texts of Islam as prophet Muhammed (SAW) stated that Habbatus Sauda Oil was "a cure for every disease except death".
Contents: Each 200ml bottle contains 30% cold-pressed Black Seed Oil and 70% Organic Virgin Coconut Oil. The oil has a fresh Black Seed taste and aroma and is acceptable even for children.
How to use: 1 teaspoon may be taken directly to added to drinks. Try adding to herbal tea with a pinch of cinnamon and sweeten with Coconut Sugar if required.
Externally: Black Seed Oil is fantastic as a natural moisturizer and for antioxidant protection of the skin. Apply to the hair and scalp and leave for 1 hour before bathing.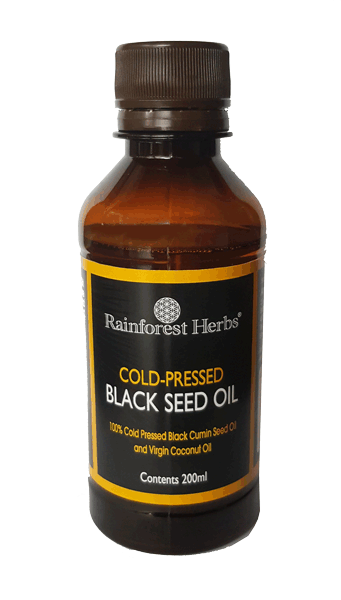 Black Seed Oil contains several bioactive ingredients that have been the subject of more than 500 clinical and laboratory studies; the most well researched of which are thymoquinone and alpha-hederin. These studies have shown that Black Seed Oil taken internally has the following properties:
Anti-diabetic and improves insulin sensitivity
Anti-cancer and anti-tumour
Improves metabolism and weight loss
Immunomodulator and immune enhancer
Analgesic and pain relieving (internally and externally)
Antimicrobial
Anti-inflammatory and antiallergic
Spasmolytic and vasorelaxant
Bronchodilator and anti-asthmatic
Hepato-protective
Renal protective
Gastro-protective
Antioxidant properties
Used externally it may also be of assistance in joint pain and inflammation, skin diseases and hair loss, dandruff and premature greying.
Rainforest Herbs Black Seed Oil
is Halal Certified by Jakim